I finally found the instructions on how to properly set up Semagic for cross posting to multiple journal accounts. I
knew
I was missing something the other day when I posted on how to
set up Semagic to post to DW
. Semagic works for Windows; as well as with Mac and Linux (you have to install them using WINE), download information is
here
.


In the login box put a "username" and password. (Your "username" can be anything you want to identify the account, ie: fic ij, fic lj, real life.)

DO NOT LOG IN!

Tick the "remember password" box and the "auto-login" box.

Now click on File > Server Settings.

Put your REAL username in the box here.

Make sure the server is www.dreamwidth.org for DW, www.livejournal.com for LJ, www.insanejournal.com for IJ (if you're also on Insane Journal).

Click OK, and then log in.

Log out and do it again for the next journal.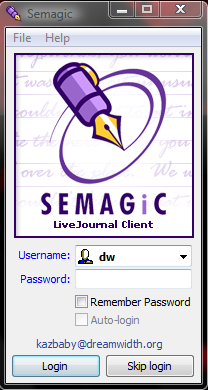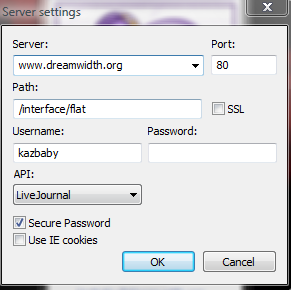 When you go to post, click "Journal" > "Post to Multiple Journals". A little box will appear with a list of your journal accounts you've just set up, simply select the ones you want to post to and click "OK". I just did a test a few minutes ago and it works this time!
Courtesy of

morgandawn
:
also, if for some reason your tags are not carrying over to DW....

I found a Semagic workaround. very simple
http://semagic.livejournal.com/14582.html

"...tags are enabled for Insanejournal.com and any other site after opening an entry with tags in the history window."